One of the great things we get to do aside from giving you a review on movies and TV Shows, is to meet with stars of movies that we love to watch. So the perks of being able to meet and chat with the stars makes this job the best. I love getting their views and perspective on a movie they were in or maybe the character they are playing. That is what we are about honest views and an honest reaction from the stars. Today we have a transcript of the interview that I had with Brandon Routh, most of you will know him as Superman from the 2006 Bryan Singer version. Brandon is a great guy and even after having what looked like a long day at the Salt Lake Comic Con, he still took the time to chat. Right now he is working on the hit TV Show The Arrow and plays Ray Palmer who later becomes The Atom. We were able to get some of his thoughts on that role along with what his favorite character has been to date. Read below for the interview.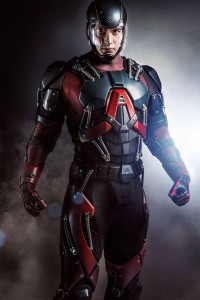 MR2GO: Salt Lake City Comic Con, is this the first time coming to Salt Lake?
Brandon Routh: First time in Salt Lake, but I have also been to Park City and Goblin Valley State Park.
MR2GO: How are you liking it so far?
Brandon Routh: Its great, you know, you judge a lot by the people you meet in this city and everyone has been really kind and awesome.
MR2GO: I wanted to ask you a couple of questions about your current work now and what you have done. First off what has been the most memorable or favorite character you have done?
Brandon Routh: Superman, and the character of Superman has got to be the pinnacle of everything so far, it's going to be hard for anything to replace that one.
MR2GO: I agree, we are a big fan of that movie and the work you did there to represent the character. Moving on to another of your project, Arrow. There is talk of a spin off based on the character that you play there. What are your thoughts about doing an Atom show where we see Ray Palmer take on a more central role?
Brandon Routh: I would love to play Ray Palmer for as long as possible, at this point it has been a lot of fun and whatever capacity he is in, I am game to keep playing him.
MR2GO: We are excited to keep watching what happens there. What else are you working on aside from Arrow that you can tell us about?
Brandon Routh: I have a movie called 400 days, it's a space sci-fi action thriller that is supposed to come out this year, Caity Lotz is in it who is also Black Canary on Arrow, Tom Cavanaugh who is in flash currently and Dane Cook.
I have to say with everything he was doing during the Salt Lake Comic Con, being able to interview him and the time he took has really shown me why so many people like Brandon Routh. He really cares about the fans and taking the time with them however little or long it is. I saw him doing autographs and taking pictures with fans and he made sure every fan there felt appreciated. Brandon really wanted to take time with everyone there. I hope we get a chance to run into him in the future and look forward to his projects going forward. You can follow Brandon Routh on twitter and facebook and see all the great things he is working on.
Update: Since the interview with Brandon back in Janurary 2015 we have heard and seen great new things for him. Now that Legends of Tomorrow is official we will see a lot more of him.